AUBURN HILLS MICHIGAN ROOF COMPANY
CALL or TEXT FOR YOUR FREE ESTIMATE!!!
248-425-8956
CLICK HERE TO: EMAIL US FOR MORE INFO OR A QUOTE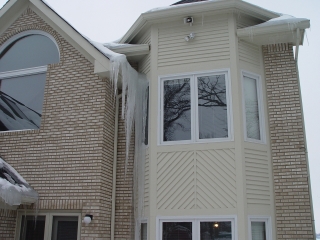 ICE DAMS CAUSE ROOF PROBLEMS
OUR WATER & ICE SHIELD CAN SOLVE THEM!!!
causing air conditioning systems to work harder,
or leaving your home's interior hotter and less comfortable. Attic Ventilation: In both hot and cold weather in Mi,
insufficient attic ventilation may cause moisture in the attic to become trapped and condense on the rafters.
This condensed moisture can drip down onto the insulation and reduce its effectiveness in Michigan winters.

.
CALL US FOR A FREE ROOF INSPECTION !!
OUR PRICES ARE VERY COMPETITIVE !!
DEAL WITH A QUALITY, RESPECTED MICHIGAN COMPANY !!
There are a lot of products today to beautify your house.
Certainteed, Mastic, Wolverine, Alcoa, are some of the vinyl siding used
in the Oakland and Macomb counties of Michigan.
There are many colors and styles of siding to pick from.
We install more soffit vents in most homes today
to give better air flow in the attic of the house.
We are a reliable Michigan Siding and Roofing Contractor,
We have served Rochester mi - Troy mi - Clarkston mi - Waterford mi -
White Lake mi - Novi mi - Utica mi - and most of the
Oakland mi - Macomb mi - Counties in Michigan -
248-652-2237
248-425-8956
CLICK HERE TO: EMAIL US FOR MORE INFO OR A QUOTE
IN BUSINESS SINCE 1966
FOURTH GENERATION COMPANY
DEAL WITH A ESTABLISHED COMPANY
WHO HAS BEEN AROUND
AND WHO WILL BE AROUND
WHEN YOU NEED THEM!!!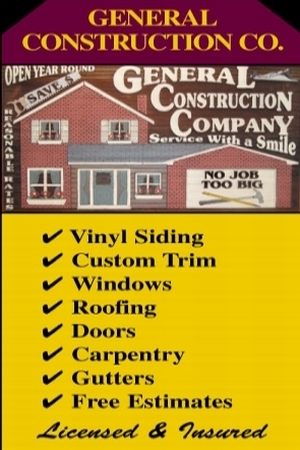 Birmingham Michigan Roofing Company

Utica Michigan Roof Contractor

Waterford Michigan Roofing - Siding - Windows

Macomb Michigan Roofing - Siding

Ferndale Michigan Roofing Siding Windows

West Bloomfield Mi Roofing Utica Mi Roofing Troy Mi Roofing Springfield Township Mi Roofing Royal Oak Mi Roofing Rochester Hills Mi Roofing Pontiac Mi Roofing Macomb Mi Roofing Lake Orion Roofing Davisburg Mi Roofing Armada Mi Roofing Rochester Hills Mi Rochester Hills Mi Drywall Repair Rochester Hills Mi Roofing Rochester Hills Mi Carpentry Repair Rochester Hills Mi Ceramic Tile Rochester Hills Mi Deck Livonia Mi Roofing Macomb Mi Michigan Carpentry Michigan Roof Shingle Colors Michigan Vinyl Siding Colors Michigan Roofing Novi Mi Roofing Novi Mi Roof Oakland Mi Orion Mi Roofing Pontiac Mi Pontiac Mi Roofing Pontiac Roof Mi Royal Oak Mi Roofing Royal Oak Mi Roof Rochester Hills Mi Siding Royal Oak Mi Siding Company Utica Mi Siding Company Springfield Township Mi Roofing Sterling Heights Mi Roofing Troy Mi Roofing Company Troy Mi Roof Waterford Mi Roofing Company Rochester Hills Mi Window Company Royal Oak Window Company General Company Auburn Hills Mi Roofing Company Auburn Hills Mi Roofing Michigan Bathrooms Rochester Hills Mi Carpentry Company Clinton Township Roofing Company Davisburg Mi Roofing Company Farmington Hills Roofing Company

248-425-8956

CLICK HERE TO: EMAIL US FOR MORE INFO OR A QUOTE

auburn hills michigan roofing company, roof contractor, roof repairs, roof estimate, oakland, rochester mi, reroof, roofing, roof shingles, auburn hills mi